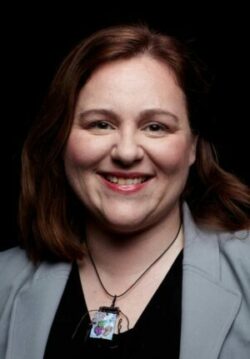 DAY ONE – September 23, 2021, 8:00 am – 12:30 pm

7:30 am – In person check-in, breakfast, exhibits, and online connection testing is recommended no later than 7:45 am
8:00 am – Welcome, acknowledgements, and announcements – Ms. Terri Stewart, Chief Administrative Officer, SYNCRONYS
8:10 am – Opening Remarks – Ms. Kari Armijo, Deputy Secretary, New Mexico HSD
8:25 am – The Patient Story – Ms. Regina Holliday, Art teacher, artist, muralist, patient rights arts advocate, and founder of the Walking Gallery and the Medical Advocacy Mural Project

9:10 am – The State of Our Union – Thomas East, PhD, Chief Executive Officer/Chief Informatics Officer, SYNCRONYS
9:40 am – Break – Please visit with our exhibitors and make new connections with colleagues in the healthcare community

10:10 am – The Value of Collaboration at the State Level: Update on the Medicaid Management Information Systems Replacement Project and the All Payer Claims Database – Jame Lilly, Deputy CIO, HHS 2020 Chief Technology Officer, NM HSD and other presenter to be announced.
11:10 am – Health Information Exchange Advances – Moderator: Nick Blake, VP of Client Services, Briljent. Panelists: Shila Blend, North Dakota; Nicole Yeo-Fisher, MSW, LCSW, Clinical Education Manager, and Chad MacLeod, Director of Product & Communication, HealthInfoNet, Maine; Catelyn Nguyen, Director, Client Services, Health Current
12:10 am – Advance Care Planning / M.O.S.T. – Felisha Anderson Martinez, Education Specialist, Presbyterian Healthcare Services
12:40 am – Adjourn Day 1

Join us for a networking luncheon following these sessions on day one. (Verification of vaccination is required.)

DAY TWO – September 24, 2021, 8:00 am – 12:30 pm
7:30 am – In person check-in, breakfast, exhibits, and online connection testing is recommended no later than 7:45 am
8:00 am – Welcome, acknowledgements, and announcements – Ms. Terri Stewart, Chief Administrative Officer, SYNCRONYS
8:15 am – A Collaboration Use Case – The Hepatitis-C Elimination Project, SYNCRONYS, and Rhodes Group's HCV Summary – Wanicha Burpa, MD, MPH, NM HSD; and Andrew Knox, Adult Viral Hepatitis Coordinator, Hepatitis and Harm Reduction Program, Infectious Disease Bureau, NM DOH; Monique Dodd, PharmD, PhC, MLS(ASCP)CM, Manager Enterprise Solutions, Rhodes Group; Colleen M. Chavez, MCRP, UNM Truman Health Services
9:15 am – High-Value Use Cases for SYNCRONYS Participants – Bill Devane, Customer Success Executive and Kate Dowd, Senior Clinical Solutions Lead, Collective Medical
10:15 am – Break
10:45 am – Sharing and Exchange of Medical Imaging Across the SYNCRONYS Community – Gary Larson, Executive Vice President & General Manager, HIE Solutions, eHealth Technologies
11:15 am – Analytics for Population Health, Quality, and Gaps in Care – Eric Widen, HBI Solutions, Eugene Hill, SYNCRONYS, and Stefany Goradia, RS21 Health Lab
12:15 am – Adjourn Day 2

This agenda is being finalized and times are subject to change.